Shropshire railway line to become footpath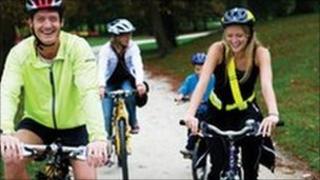 A disused stretch of railway line between the Shropshire and Staffordshire border is to be turned into a cycleway and footpath.
Telford & Wrekin Council is to receive £300,000 from the Department for Transport to upgrade the route close to the A41.
The stretch of railway line has recently been secured by the council from a local landowner.
The money will be spent over the next three years.
There is already a section of the railway line called the Millennium Way in Staffordshire which is maintained and promoted by Staffordshire County Council as a footpath and cycleway.
'Clear improvement'
The Department for Transport money will mean the link is continued so that it runs from Staffordshire to Newport and then to the Silkin Way.
Most of the cash will be spent on surface improvements to bring the railway line up to the appropriate standard as a footpath and cycleway.
The money will become available next year and in 2013, and the project will be completed by the end of the 2013-14 financial year.
Telford & Wrekin Council will be consulting both Newport Town Council and Staffordshire County Council before starting work on the new route.
Councillor Hilda Rhodes, cabinet member for transport, environment and community protection, said: "This new route will provide a link for pedestrians and cyclists to get straight from Telford to Stafford and therefore is a clear improvement in the borough's infrastructure.
"The money will be used to upgrade the surface of the former railway line to make it easier to use for cyclists and pedestrians."