Shropshire Council boss defends Shrewsbury Flower show cash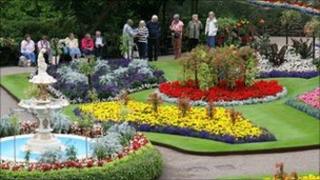 The leader of Shropshire Council is defending the use of council money to sponsor Shrewsbury Flower Show.
The council has spent £28,000 on sponsorship over the past two years.
The public service union Unison has accused the council of wasting money on the show while cutting services and wages,
The Conservative leader of the council, Keith Barrow said the council presence at the flower show was a valuable "networking" opportunity.
Out of touch
Alan James, the Shropshire branch secretary of Unison, said it was not the amount of money involved: "It's just a real kick in the teeth for the workforce who see the council spending money.
"We're all taking severe hits to our terms and conditions and having to take a pay cut. It's disgusting that the council are spending money in this way when they don't have to."
He accused the council of spending money on VIP days out while closing vital services for the people of Shropshire.
"I don't think that's right. I think what it indicates is just how out of touch the hierarchy at Shire Hall are with the feelings of the workforce and the feelings of the county," Mr James said.
Mr Barrow maintained that the money on the flower show was well spent and he accused Unison of "trying to stir it up" because the union was balloting its members for strike action.
"We sponsor Unison. We give them a free office. We pay their staff wages. We spend £80,000 a year on Unison. Now that might be a good way of saving some money in the future," he said.
No council beanfeast
He said the council had spent £13,000 on sponsorship of the show this year, £8,000 of which was to showcase the businesses being set up by adults with learning disabilities.
The remaining £5,000 was spent on corporate hospitality.
"The idea that it was a beanfeast for councillors is absolute nonsense. We put one councillor on the table to host it.
"Business works with us to help generate business and develop business in Shropshire and it was our way of saying a little bit of a thank you," Mr Barrow said.