Telford town centre roads town to be improved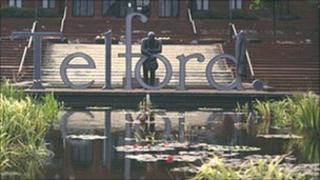 Two main roads in Telford are to undergo road works from next month which will affect access into the town for about three weeks.
Telford & Wrekin Council will carry out work on Euston Way, the main access road to Telford Central rail station, and starts on 5 September.
Further work will also begin on Hall Park Way, between the Malinsgate and Forge Roundabouts, on 7 September.
A council spokesman said Euston Way will see a number of improvements, including the widening of bends to make access easier, resurfacing the carriageway, construction of a new footpath, installation of new lighting and creating a new coach pick-up point.
Free shuttle buses will operate between the station to the bus stop on Telford Way during the works as usual bus services will not have access to the station.
Councillor Hilda Rhodes said: "The work on Hall Park Way and Euston Way will significantly improve the surface of the roundabout, which is a maintenance priority for us.
"While closures will be in place where necessary we have tried to keep disruption to a minimum, by encouraging drivers to use alternative routes and providing shuttle buses at the station."