Village holds a 'No Truck' party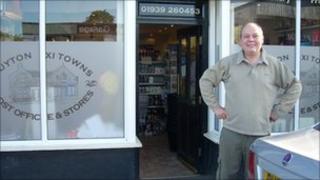 A Shropshire village is holding a special party to celebrate the lack of through traffic for the past two weeks.
The main road through Ruyton-XI-Towns has been closed while essential repairs to Platt Bridge at the Baschurch end of the village are carried out.
Village Hall Committee member, Colin Case, said the idea of the "No Truck" party was to "cheer up" the people who had been most affected by the closure.
The bridge is due to reopen on Saturday.
'Cheer-up party'
Mr Case said that although people had enjoyed not having heavy lorries passing through the village, some local businesses had suffered and commuters were having to drive miles out of the their way to get to work.
"There's a bit of 'fed-upness' in the village with the stock markets and the riots and all the other bad news we've seen over the last few weeks, so we thought we'd have a cheer-up party," he said.
Gary Caren owns the shop and post office in the village and said the road closure had not been good for business.
"It's had a severe effect. We've been taking a till count at the end of each night.
"We've been between 45 and 75 customers per day down. If you work that out on an average spend that's going to be a substantial amount."
Mr Caren, who has cut his opening hours to reduce overheads, said he felt business owners had not been properly consulted before the bridge was closed.
But John Williams, bridges and structures manager at Shropshire Council, said: "We met with about a dozen people including local business people, parish councillors, local farmers and the fire service earlier this summer to discuss when to carry out the repair work."
The work had been done as quickly as possible.
"In an attempt to reopen the road as soon as is reasonably possible, our contractor will be working 12 hours a day, seven days a week," he said.
The bridge re-opens under traffic light control on Saturday and the contractors hope to complete the repairs by mid-September.