Shropshire County Show to become two events in 2012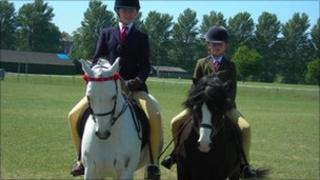 The Shropshire County Show is to be split into two one-day events next year.
The Shropshire County Horse Show will be on 19 May 2012 and the Shropshire County Agricultural Show on 26 May 2012.
Show chairman Neale Sadler said the change had been made after feedback and comments following last year's event.
The county show, then known as the West Mid Show, was saved two years ago after suffering financial problems.
'Focal point'
Mr Sadler said it was clear from what was said after this year's event that a one-day show would be "ideal".
"A one-day agricultural show and a one-day horse show would be the best balance.
"Separating the two solved logistical problems on the show ground and I think it will benefit both the horse and agricultural section," he said.
Bernie Hutchinson, director of the new agricultural show in 2012, said: "To consolidate the agricultural show on one day will make it more of a focal point."
An exhibitor who approves of the new show format is Robert Ball, managing director of Rea Valley Tractors, who said: "I think it will benefit exhibitors and traders, particularly in the agricultural machinery field.
"I am very much in favour of a one-day show if it takes the show back to its agricultural roots."
The Shropshire County Horse Show will be organised by Christine Madeley.
It will include all horse competitions except show jumping and in-hand heavy horse classes, which will continue to be part of the agricultural event.