Shrewsbury Folk festival beams worldwide from a caravan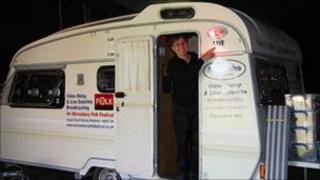 Shrewsbury Folk Festival is being beamed worldwide over the Bank Holiday weekend - from a converted £500 caravan.
Charles Denscombe, 59, is a retired technology teacher who has a "passion for electronics".
He has been putting images from the folk festival on to a big screen in the main marquee for several years.
He decided he would like to go further and let the rest of the world know what was happening at the four-day festival on Shrewsbury's Berwick Road showground.
Together with wife Heather, also a retired teacher, they suggested to the organisers the festival could be relayed worldwide through a satellite.
'It's a wreck'
Mr Denscombe then realised he needed somewhere to set up his broadcasting operation.
He went to a second hand caravan dealer and told him he had £500 to spend: "He went out back and said: 'It's a write off, it's a wreck'. I said: 'That'll do'.
"One wall fell out, so we took the caravan apart and rebuilt it into a broadcast studio."
Then he and Mrs Denscombe bought a satellite dish: "A thousand quid later I'm on this installation course and learn how to point this thing at a satellite and turn it on."
An internet server in the former shower room and lavatory of the caravan sends the edited and mixed material to a media distributor via the satellite dish.
This allows people all over the world to access the shows through the internet via the link on the show's website.
He and his crew of enthusiastic helpers have already made test broadcasts which have been watched by 6,000 people all over the world.
As well as broadcasting live and recorded material around the world, Mr Denscombe will be providing festival goers with a broadband service on site and giving the bands a record of their performance.
"Within five minutes of them coming off the stage we give them an instant DVD of their performance and they go away with that as a present from the organisers," he said.
Mr Denscombe said the had been "running out of steam" as a teacher and decided to retire and set up his own audio visual recording business.
He admits it's not a lucrative venture: "I'd hate to get to 80 years of age and have a shed load in the bank, not having spent it on what I want to do."
The Shrewsbury Folk Festival runs from Friday, 26 August until Monday, 29 August and features Imagined Village, Oysterband, Bellowhead, Show of Hands and Shropshire's John Kirkpatrick.