Telford hosts major gaming festival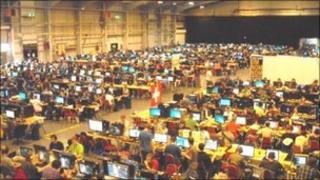 A major UK gaming festival has taken place in Shropshire.
There could be more than £50,000 worth of prize money over 12 tournaments at the Multiplay Insomnia event in Telford, organisers said.
The festival at The International Centre, ended on Monday after starting on Friday, and saw more than 2,000 computers being used.
Before the event more than 3,000 computer games enthusiasts had been expected to attend.
Organiser Craig Fletcher said: "We have certain people who provide PCs, we've got a certain number of those.
"But the vast majority have brought their own kit, humped it on the train, brought it in the car.
"There's people with pre-made flight cases that they've taken on aeroplanes with all their kit in it because they've flown in from Europe."
The event, which has also attracted people to Telford from Brazil, was held at Newbury Racecourse last August.