Barefoot priest's four year 'spiritual walk'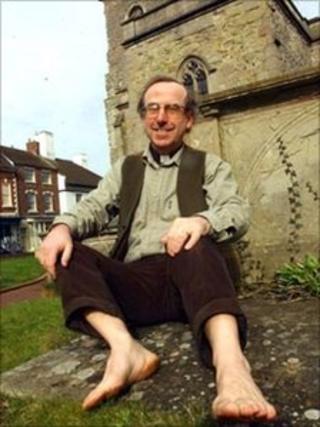 A Shropshire priest who has walked barefoot for four years, has said it is his statement about materialism.
The Reverend Prebendary Stephen Lowe said: "Being barefoot is my expression of the fact that we don't need as many things as we imagine."
Mr Lowe, whose parish is in Much Wenlock, said he was initially concerned that being barefoot would be a barrier to his ministry.
However he said being both barefoot and a clergyman had been a "breakthrough".
"I didn't want it to be a distraction to people - 'Oh there's the person who seems to be eccentric'," he said.
"I think people know me well enough to know that I am not mad."
Blistered feet
Mr Lowe said he had a natural inclination not to wear shoes, but said the experience did have a pilgrimage feel about it.
"You've obviously got to be alert as you walk around barefoot and that is actually an alertness of mind and spirit," he said.
He said the soles of his feet toughened up quite quickly, but admitted he does wear shoes in hospital because of regulations, and when temperatures fell dramatically last winter he wore boots when his feet blistered.
However he said he does walk barefoot in the snow: "People wince thinking I've got very cold feet, but actually feet look after themselves.
"So long as the rest of my body's warm, the feet keep themselves warm."
Mr Lowe said he gets a mixed reaction from members of the public: "A lot of English people are too polite to mention it, but you can tell they're bursting to ask - 'Why haven't you got any shoes on?'"
"The inhibitions are not shown by small boys, you see them tugging their parents' arms.
"But other people come up to me and are interested and see the connection.
"I talk to them about what it means about walking more gently on the earth."
Asked what was most difficult to walk on, the Anglican minister said old railway lines were "bruisingly impossible", as were dead thistles: "Bits of thistle break off in your foot and you take ages trying to get them out."