Work starts at the old Gay Meadow football ground site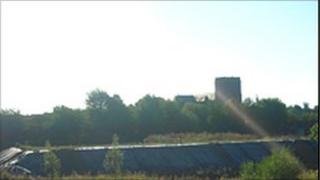 Four years after Shrewsbury Town Football Club moved to a new home, work has begun on the old Gay Meadow site.
David Wilson Mercia has started the groundwork to prepare for building on the former site.
The old football stadium was demolished in 2007 and £60m plans to develop it were put on hold because of the economic downturn.
Now 179 homes could be built beside the River Severn once the flood alleviation measures are in place.
The planning application is for 62 houses, 117 apartments, roads, parking areas and communal gardens as well as a landscaping scheme.
It is currently being considered by Shropshire Council.
Andy Peters, managing director for David Wilson Mercia, said the company had started work on the marketing suite at Gay Meadow.
"The development has been named Riverside Meadow and we anticipate it will be open to potential customers in October," he said.
The football club moved to its new home in Oteley Road in Shrewsbury and played its first game there in 2007.