Shrewsbury door staff can help prevent river deaths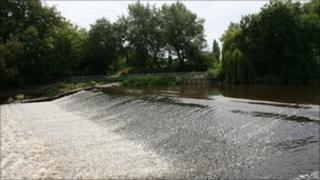 The River Severn at Shrewsbury has been labelled one of the worst places in the UK for river deaths, with 24 people drowning there in the past six years.
To try and reduce the number of such deaths, pub and club door staff are being asked to look out for revellers who appear to be a danger to themselves.
Mark Hodnett, a 27-year-old father of one from the Radbrook area of the town, is the latest person to die after a night out. He was found near Kingsland Bridge last month five days after he disappeared.
A Facebook campaign was set up asking Shropshire Council to fence off the most dangerous stretches of the river.
Changing behaviour
Tim Sneddon is head of Shropshire's environmental maintenance. He said the council was taking steps to make the river safer but behavioural changes in those who go out drinking in the town were just as important.
"We've got to look at what can be sensibly done.
"And we will do that as a council, but we are relying on other people as well to take their responsibilities seriously and look after each other so they do get home safely," he said.
Ch Insp Martin Whitelegg of West Mercia Police said nine or 10 of the recent river deaths had been linked to heavy drinking.
He said Shrewsbury had the worst death rate of any comparable town or city in the UK and "a lot of it is due to the fact that all routes in Shrewsbury take you either across or by the river."
Ch Insp Whitelegg is a member of the River Severn Safety Advisory Group. He said the aim was to prevent people from dying in the river and police had been working with pubs and clubs in the town.
"The door staff there are helping to re-unite heavily intoxicated people with their friends and relatives, or indeed help them into a taxi if that's how they wish to get home."
Money not answer
For him, personal responsibility was the key to avoiding river deaths rather than fencing off the whole river.
"I don't believe that money is the solution to this question. If we spent millions of pounds putting fencing up along the river I don't believe it would prevent these tragedies.
"Fences can be climbed and people can still get into the water if they wish to," he said.
Matthew Everington was a close friend of Mark Hodnett. He said he had always believed door staff had a responsibility towards club and pub patrons.
He was involved in setting up the Facebook campaign. He believes CCTV along the river bank is the way forward.
"The CCTV is the one surefire way that they can pinpoint anything that happens," he said.
He would like to see cameras installed around Abbey Foregate and along the riverside through the Quarry.
"If it's been reported, if they've been spotted, they can pinpoint the exact place rather than having to rely on word of mouth or a phone call."