Tibberton villagers to buy 'shares' in shop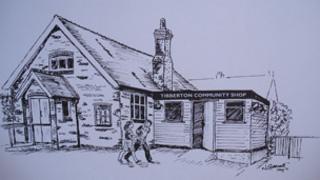 Villagers in Shropshire are being invited to buy £10 "shares" in their new shop.
Those behind the project in Tibberton, near Newport, need to raise £8,000 to complete the shop, which will be owned and staffed by the community.
After costs, any surplus raised from the shares will be reinvested in the shop and local charities.
Work has already started on the shop, which will be the first the village has had since 2009.
A temporary shop disappeared in November, when the pub it was based in closed.
Local chartered accountant Jo Ford said the store was being registered as an Industrial and Provident Society with the Financial Services Authority (FSA).
'Social return'
"The membership are entitled to one vote each, regardless of the amount of money they invest, which makes it very different to a company one would normally invest in," he said.
Mr Ford said everyone in the village and surrounding area would be invited to buy shares.
He said: "There is no financial return. This is all about a social return.
"It is about the benefits to the village and the benefits to charities in the local community if we make surpluses."
Committee member, Geraldine Stokes-Harrison said they were still waiting to hear from the FSA.
She said: "As soon as we've got that we can start delivering the community shares. We intend to deliver them by hand to every house in the village."
She said there would be community share launch party in mid-October.
The Tibberton Community Shop committee has been advised by the Plunkett Foundation, which has helped some 240 villages across the country to set up their own community shops.
Mrs Stokes-Harrison said the community was determined to succeed and that there had been plenty of volunteers.