Full structural survey at damaged Abraham Darby Academy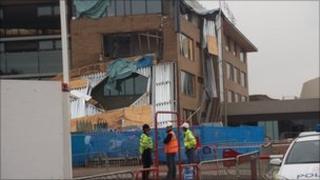 A full structural survey is to be carried out on a new secondary school building in Shropshire that partially collapsed last month.
Five contractors were injured at Telford's Abraham Darby Academy on 25 August. All have now left hospital.
Contractor Kier Moss said it was now working closely with the Health and Safety Executive (HSE).
Work will continue on the new Woodlands Primary School, which was unaffected by the collapse.
Road closure
Richard Collin, of Kier Moss, said: "The next stage will be to systematically remove the collapsed steel canopy piece by piece in order to assess each of the individual parts."
He said the work would begin on Monday using heavy machinery.
The section of Ironbridge Road in front of the site will be closed from 10:30 BST on Monday to early evening and on Tuesday from 09:45 BST until early evening.
Mr Collin said everything was being done to investigate the incident to ensure the project could move forward safely and successfully.