Metal thieves smash up Whitchurch club house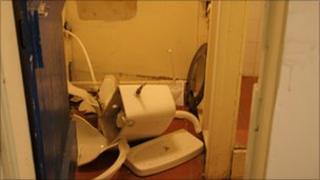 Thieves who broke in to a Shropshire football club smashed toilets to steal copper piping.
Whitchurch Alport Football Club had to cancel Wednesday evening's home fixture after the damage was discovered by club manager, Andy Allmark.
Club member Lesley Watson said the damage was "not just a few hundred. It's thousands."
The club will not be able to host a home fixture until the damage has been repaired and the toilets replaced.
Mrs Watson said people had turned up for the match on Wednesday because they did not know it had been called off.
"We had a gentleman turn up from Newcastle and two from Sheffield that do rounds of the local grounds. People come a long way," she said.
Whitchurch Alport play in Division Two of the Cheshire League.
Toilet offered
Mrs Watson said the club had very little money to spare and she was not sure if the damage would be covered by insurance.
"We have lost income from the gate, the tea bar and things like that. It all affects the club," she said.
After speaking about the club's plight on BBC Radio Shropshire's mid morning programme, Mrs Watson said a woman from Market Drayton had offered a new toilet and cistern, but they still needed plastic piping and fittings to replace what had been stolen.
A CD player and wireless PA system were stolen from the office.