Wernlas Collection chicken breeders' retirement auction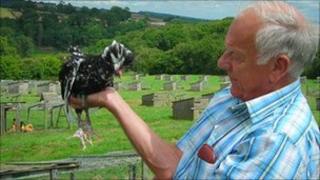 Some of the world's rarest chicken breeds are being auctioned as part of a Shropshire couple's retirement sale.
Shaun and Sue Hammon own a collection of 74 different breeds and up to 3,000 birds that are being auctioned by Nock Deighton Agricultural LLP.
The pair from near Ludlow began the Wernlas Collection as a hobby 25 years ago but decided to retire this year.
The auctioneer said there had been many expressions of interest from bidders from across the UK and Europe.
'Sea of people'
Nock Deighton said: "This is an internationally renowned collection, including some rare and minority birds.
"There has been a lot of interest from across the whole of the UK and mainland Europe."
He said there was a "sea of people" who had gathered for the auction.
"I believe the sellers had tried to sell their business as a going concern but they were unsuccessful so they came to us and we expect the collection of breeding birds and young stock to be divided up now," he said.
During their career Mr and Mrs Hammon developed several breeds of their own, including the Silvar, and also advised universities and institutions on poultry genetics.
Their firm employed three full-time members of staff who oversaw the hatching of about 15,000 chicks per year, some of which were sold for breeding stock and others which were sold as pets.
Mr Hammon said: "This is going to be a very busy day indeed and we hope to sell all of the stock."
Apart from a fortnight's leave each year, the couple said they had not had a weekend off in 25 years and were looking forward to the break.