Shropshire vet student saves by training in Slovakia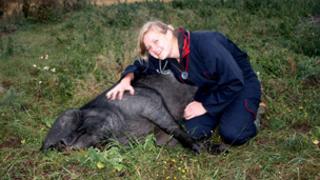 A veterinary student from Shropshire claims to be saving almost £11,000 a year on fees by training abroad.
Harriet Moore, from Booley, near Shawbury, is about to begin her final year at university in Slovakia.
The 25-year-old said she had been accepted by universities in England, but was worried about the £17,000-a-year fees.
When she qualifies as a veterinary surgeon next year she will be able to practice in the UK.
Miss Moore, who has a zoology degree from Liverpool University, said she had always wanted to be a vet but was unable to get any financial support towards study in England because it was her second degree.
'Intense course'
A family friend recommended looking at universities in Slovakia and she was soon enrolled at the University of Kocise.
The lectures were all in English and some of her lecturers had worked in the UK.
She said: "It's been such an intense course that time flies. I've been there three years now, so I've only got one year left and then I'll be qualified and hopefully get a job back in this country."
There are a number of foreign students in her year with four from England, six from Ireland and others from Israel, Norway and Sweden.
The fees are 6,500 euros (about £5,700) a year in Slovakia, a sum Miss Moore found much more manageable.
"My parents are happy. They had thought about remortgaging the house and trying to find the money some other way but when this came along I said 'I'm fine leaving, I'm fine going abroad.'
"So I got on a plane and went over there to see what it was like and it's all working out so far," she said.
Miss Moore goes back to Slovakia on 20 September after spending the last two weeks of her summer holiday working for a veterinary practice near Shrewsbury.