Midlands students take on stars in film festival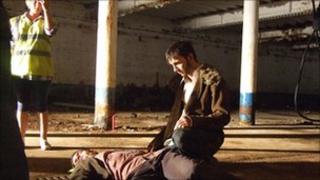 A film made by a group of students from the Midlands is up against the work of established stars and producers in a prestigious European film festival.
Julius Caesar is entered in the "micro budget feature" category at the European Raindance Film Festival.
It was made by students from 18 further and higher education institutions in the Midlands, who worked with the Co-operative British Youth Film Academy.
Shot in Wolverhampton last year, it is up against British and foreign films.
The film was shot in Wolverhampton in summer 2010.
More than 150 students from institutions including Shrewsbury College of Arts and Technology, Staffordshire University, Stoke on Trent College, Burton College, City of Wolverhampton College and North Warwickshire and Hinckley College were involved in the project.
Their film is the only one produced by students to feature in the Raindance Festival which runs from 28 September to 9 October.
The premier of Julius Caesar is on 6 October at the Apollo Cinema in Piccadilly Circus.
International stars
Michael Fairclough, the Co-operative Group's head of community and co-operative investment, said the film's acceptance into the Raindance Festival was a "remarkable achievement."
"It illustrates how young people can realise their potential and accomplish amazing things with a little support and encouragement," he said.
Dee Young, a teacher at Shrewsbury College, said: "It's remarkable to see how much students from across the region grow in confidence, technique and as individuals through their engagement with this filming process."
The film's co-director, Adam Lee Hamilton said he was "delighted and proud of the film's acceptance into the prestigious Raindance Festival."
He said it "showcased the talents and achievements of the young people involved in all aspects of its production."
The "micro budget" category has films from the UK, Bosnia Herzegovina and Iraq. One of the UK entries, "Black Pond" stars television stars Chris Langham and Simon Amstell.
The Raindance Festival features 90 UK film premieres from 36 countries.
Internationally famous actors such as Simon Callow, Dougray Scott and Emilia Fox star in some of the entries.