Private hire drivers criticise Shropshire Council plans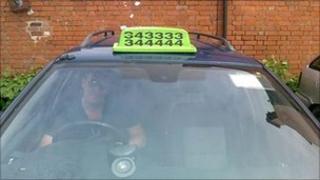 Private hire drivers have criticised a plan by Shropshire Council to remove roof signs from cars.
The new plans come into force on 1 October and only affect private hire firms.
The move is designed to distinguish them from hackney carriages, which operate under different licensing arrangements.
Driver Pat Henderson said the decision would make the cars difficult to identify and put people at risk.
Some private hire companies operating in Shropshire currently use illuminated roof signs to identify their cars and advertise their numbers.
Under the new arrangements, from October, those applying or reapplying for a licence would only be able to distinguish their cars by door signs.
'Vulnerable girls'
Ms Henderson said: "Coming out of a nightclub how many people are going to walk up and down looking at stickers.
"It's going to make young girls very vulnerable at nighttime.
"If you get into a taxi with a roof sign, whether it's ours or whoever, at least you know you're in a legitimate taxi."
Paul Mc Greary, Shropshire Council's group manager for public protection and enforcement, said the authority was following national good practice guidance and had carried out a six-month consultation.
"We're trying to avoid confusion. Black cabs can stop, pick up people, take them. Private hires have to be pre-booked. The primary focus is around public safety."
Oswestry black cab driver Tim Higgins said the key issue, in terms of safety, was insurance.
"A hackney vehicle is insured for public hire, which means it can be hailed from the roadside... if you do that with a private hire vehicle, you're travelling in an uninsured vehicle."