Birds seized in Telford police raids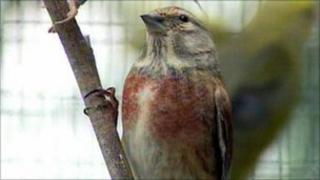 Almost 70 birds have been seized in Telford in a joint operation between police and the RSPCA.
Police said the raids on three properties in Overdale, Ercall View and Shrubbery Road came after reports from local people of illegal trapping.
The 68 birds, two of which required treatment, included goldfinches, redpolls, linnets and bullfinches.
West Mercia Police said no arrests had been made and the RSPCA would be in charge of any future prosecutions.
The RSPCA said it would be investigating whether they were wild birds which had been caught or legally bred in captivity.
An RSPCA spokesman said officers would be checking whether rings found on birds' legs had been tampered with.
The small, sealed rings can only be attached to birds at a young age.
PC Craig Davies, from West Mercia Police, said wild birds were often trapped for breeding purposes and described the practice as cruel.
Trapping or selling wild birds has been an offence since 1981, under the Wildlife and Countryside Act.