Community Money Advice charity sees rise in demand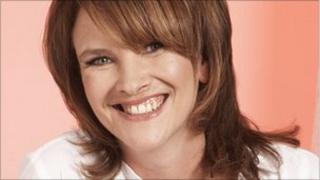 A Shropshire woman who founded a national debt advice charity said it has seen an "explosion" in demand.
Heather Keates, from Shrewsbury, said she expected the impact of budget cuts on households to get even worse over the next three years.
On Monday, the Institute for Fiscal Studies (IFS) said the last year had witnessed the biggest fall in living standards in 30 years.
It said the impact of cuts on household budgets could last another decade.
Ms Keates said the last 10 months had been particularly busy, and that two advice centres in Shrewsbury were already at capacity.
'Borrowing constantly'
Ms Keates, 45, launched Community Money Advice (CMA) in Shrewsbury, in 2001, after experiencing the effects of debt at first hand.
"I've been there, at the back end of the last recession we found ourselves losing just about everything we had... and finding ourselves with tens of thousands of pounds-worth of debt.
"My husband's business collapsed and we found, to make ends meet, we were borrowing constantly and we got ourselves into this vicious cycle of borrowing to pay off debt," she said.
The experience lasted for three years, until 1993, but finally the family managed to drag their budget back out of the red.
"We found that there were benefits we could have, simple advice such as talking to creditors, letting them know the situation, asking for time to make repayments, really helped."
The experience inspired Ms Keates to help others in the same situation.
"We needed people to help and perhaps at the time we didn't find there was anybody out there. We wanted to do something positive... to make a difference."
In the last decade CMA has launched more than 100 centres across the country, staffed by trained volunteers.
Growing waiting list
In any given week the charity offers advice to more than 4,000 people and has helped people tackle debt worth £75-£100m, which does not typically include mortgage repayments.
Access to the charity's advice is free and the centres are funded by the community, particularly local churches.
"We actually worked with the church we're at to get ourselves properly trained. Out of that we found that actually demand for what we were doing was just growing," Ms Keates said.
She added that despite an increase in clients and an ever-growing waiting list, many people found it difficult to confront their situations.
"In today's society we still do not talk about being in debt, we don't talk about money.
"It's not very easy to ask strangers for help... because we're frightened that people will judge us."