Lib Dem president Tim Farron backs schools campaigners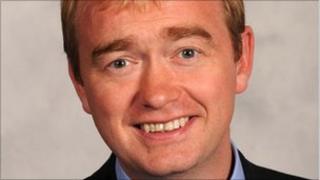 A senior Liberal Democrat has visited Shropshire to hear concerns about local school closures.
Party president Tim Farron backed campaigners attempting to secure the future of Shrewsbury's Wakeman School.
The specialist arts college was approved for closure by Shropshire Council's cabinet last week.
The MP for Westmorland and Lonsdale said: "It seems foolish to close down an excellent school that will end up needing to be rebuilt in 10 years."
Conservative-led Shropshire Council said that while educational standards at the Wakeman were good, pupil numbers made it "financially unsustainable".
The school has 240 pupils on roll from September, out of a capacity of 675.
Campaigners said falling pupil numbers were due to rumours regarding the school's future over the last five years.
'National trailblazer'
Mr Farron also visited south Shropshire and compared it to his rural Cumbria constituency.
He particularly paid tribute to Lydbury North Primary, which successfully fought off a proposed closure in 2012.
The south Shropshire school will now federate with Onny Primary, which will allow the schools to share a number of resources, such as a single governing body and specialist teaching expertise.
Mr Farron described Lydbury North as a "national trailblazer" and said it demonstrated how small rural schools could secure their futures.
"I've got about six schools with significantly [fewer than] 30 pupils and they are vital to the constituencies that they serve," Mr Farron said.