MPs question size of new constituency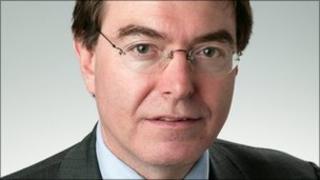 Two West Midlands Conservative MPs have said they are worried by the size of a new constituency, proposed by the Boundary Commission.
The move is part of a plan to cut the number of MPs from 650 to 600, by 2015.
Under the plans, Philip Dunne's Ludlow constituency would largely combine with Bill Wiggin's North Herefordshire seat.
The new Ludlow and Leominster constituency would follow the Welsh border from Chirbury, down to Golden Valley, almost 60 miles to the south.
Mr Dunne suggested the new seat would be "one of the very largest in the country", while Mr Wiggin described the constituency as "absolutely enormous".
The proposals by the Boundary Commission aim to standardise the population numbers within each constituency.
The sparsely populated and rural area around south Shropshire and north Herefordshire means that whoever is elected in 2015 will serve a large geographical area, with an electorate of almost 78,000.
The two current MPs could be pitted against each other in a bid to win the support of local Conservative associations and represent the party at the next election.
As the party whip who saw the legislation through parliament, Mr Dunne acknowledged the details released by the Boundary Commission had left him with a dilemma.
Mr Dunne said he could choose to contest the proposed Bridgnorth and Telford South seat, which includes a large part of his current Ludlow constituency.
'More efficient'
While the Ludlow seat would lose Bridgnorth, Broseley, Much Wenlock and Worfield, a large part of North Herefordshire would be combined with West Worcestershire around Malvern.
Despite the significant changes to their existing constituencies, the Ludlow and North Herefordshire MPs supported the overall plans.
"My first concern was that my constituents would be all right and I'm confident they will," Mr Wiggin said.
Mr Dunne said the plans would help create "a leaner, more efficient House of Commons".
The proposals have entered a 12-week consultation period and could face a number of amendments before 2015.
The Boundary Commission will be holding public meetings at Ludlow Conference Centre on 7-8 November.