PCTs back county hospital reorganisation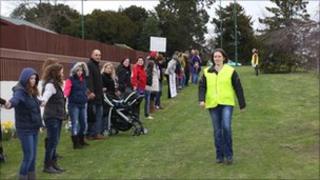 Controversial plans for the reorganisation of Shropshire's main two hospitals have moved a step closer.
The outline business case has been approved by the county's Primary Care Trusts (PCTs).
The £35m plans would see specialist services focussed at Telford's Princess Royal or the Royal Shrewsbury Hospital.
Consultant-led maternity and in-patient paediatric treatment would move to Telford, while the Royal Shrewsbury Hospital would specialise in surgery.
Campaigners have criticised the extra distances that would need to be travelled by maternity patients from mid-Wales and south Shropshire.
In March, Dr Leigh Griffin, chief executive of Shropshire County and Telford and Wrekin PCTs, urged the hospitals trust to try to cut ambulance response times and "identify other means of mitigating travel times".
Adam Cairns said a new agreement would mean the West Midlands and Welsh Ambulance Services would "offer each other mutual aid... on a very formal basis".
"The ambulance service best positioned to respond will respond, whether that's an English or a Welsh ambulance," he said.
The Royal Shrewsbury Hospital currently covers much of mid-Wales, as well as some of the most rural parts of Shropshire.
'Spread too thinly'
The hospitals trust said the reorganisation of services in Shrewsbury and Telford was a direct response to concerns about the provision of safe, sustainable services.
It said specialists were currently being spread too thinly across the two sites and that some services were in danger of being moved out of the county.
The plans will go before the Strategic Health Authority on 27 September in a bid to secure government funding for the project.
Of the £35m that the scheme is expected to cost, £28.6m would be spent on new buildings and extensions at Telford's Princess Royal, to house the new maternity and paediatric units.
The rest of the money would spent on upgrading services at Shrewsbury, but is not expected to include new buildings.
Midwife-led maternity care would move into the main hospital building, while the current maternity unit would be turned into offices.
A series of public meetings is scheduled throughout October and November and a full business case is expected to be published in spring 2012.
Earlier in the year more than 20,000 people signed a petition against the move of maternity and paediatric services from Shrewsbury.