Shrewsbury School to open to girls for first time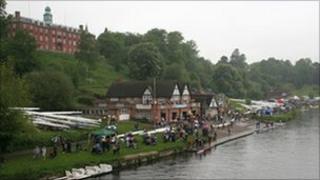 A leading public school is to open fully to girls for the first time in its 450-year history.
Shrewsbury School said that from 2014 it would start accepting girls, a move that would create a "better, more relevant education".
The school's sixth form turned co-educational in 2008.
Shrewsbury School said its rolls would increase from 750 to 780, with girls expected to make up 35% of the school by 2020.
The school said the world had changed considerably since it was founded in 1552 and that learning together would encourage "young men and women to respect one another as equals".
The school said that, like boys, girls would enter at age 13, following an entrance examination, which would become "marginally more selective".
It said it believed the changes would help improve already high academic standards.
'Embrace change'
The governors said the plan was not financially motivated, with the school currently boasting its largest-ever roll.
They said that the timing of the decision was partly due to the level of investment required in new facilities, including boarding houses.
They added the arrival of new headmaster Mark Turner in September 2010 also provided "an ideal time for the school to embrace change".
Former pupils, known as Old Salopians, include Charles Darwin, Sir Philip Sidney, John Peel, Nevil Shute, Michael Palin, Richard Ingram, Paul Foot and Willie Rushden.
Shrewsbury was one of the nine "Clarendon Schools", which also included Eton, Winchester, Harrow and Rugby, established under the 1868 Public Schools Act.