Plastic bottle recycling to start in Bridgnorth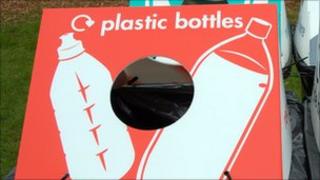 Residents in a Shropshire town will be able to recycle plastic bottles from the kerbside from next month.
The new service will operate in Bridgnorth from 31 October alongside the existing recycling collections.
The collection of plastic bottles is being introduced by Shropshire Council and its waste contractors Veolia Environmental Services.
The service has already been introduced in the Oswestry, north Shropshire, Shrewsbury and south Shropshire areas.
When the new service starts people will be asked to put their recycling out for collection in three kerbside collection boxes rather than two.
An extra box will be delivered to households in the two weeks before the service starts.
Councillor John Hurst-Knight, Shropshire Council's cabinet member for waste, said: "The collection of plastic bottles from the kerbside has already proved extremely popular with residents in other areas of the county and is helping to boost the amount of household waste that is recycled in Shropshire."