Shropshire young carers take a break on the Long Mynd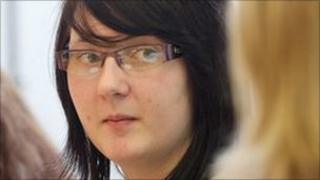 "I work full time so by the time I get home, sort everything out, it's kind of like - no time for me."
These are words, not of a busy parent, but 17-year-old Lily Lis.
Lily is a young carer who lives in a rural part of south Shropshire and looks after her mother who has rheumatoid arthritis.
According to the British Red Cross there are more than 900 young carers in Shropshire with an average age of 12.
At seven in the morning Lily catches her first bus from Clee Hill and heads to Worcester where she is an apprentice receptionist.
Once home at six or seven at night she cooks dinner for her mother, her sister and her sister's children, who all live in the same house, and she does the housework.
Adult role
Lily, whose father works a variety of shifts, said: "Because I grew up with my dad looking after my mum it kind of was the norm.
"I didn't really know any different until somebody just said to me one day 'Oh, have you heard of young carers?'"
From 16-18 September Lily spent three days at Long Mynd Adventure Centre, Church Stretton, with 11 other young carers as young as 14.
The group tried sewing, cooking, a range of outdoor activities, and learnt about budgeting.
It was a rare opportunity for them to enjoy a period of respite and activities focused on useful skills and fun.
Vanessa Turner, young carers project manager with the British Red Cross in Shropshire, organises meetings for young carers, monthly activities, and occasional residential weekends.
She said most young carers were remarkably grown up and mature for their age and rarely complained.
"They're fulfilling a role that an adult would usually undertake," she said.
"They don't winge, they don't moan, they just get on with it."
'Miss out'
The British Red Cross in Shropshire supports young people aged up to 19 who provide a caring role for a family member who is ill, has a disability, mental health difficulties or alcohol or drug related issues.
Ms Turner said: "I feel they miss out on having fun - even when they do they worry and are anxious to get home."
Sophie Stevens, who was also on the residential course in Church Stretton, said for her it was about "talking" and "laughing".
The 17-year-old from Westbury is the primary carer for her mother who is partially deaf, has rheumatoid arthritis and has limited mobility.
The teenager also has a long commute every day to Walford College, but when she is home she cooks, cleans, helps her mother with her medication and helps her up and down the stairs.
'Mother role'
She also gets her sister up for school and helps her with her homework and finds time for her own college work.
"She takes on a mother role," said Ms Turner.
Asked how challenging life was, Sophie said: "It's a bit of a strain... but I've also got my friends that help me get along."
Time spent with other young carers is clearly helpful, because they all understand what being a young carer means.
Sophie said: "I've known a few of these for years and you sort of get to help them with their problems as they help you with yours, also having fun in the mean time."
Lily said: "If you talk to somebody that isn't a young carer they kind of don't understand what the responsibilities really are.
"I don't think many people do quite understand."
The British Red Cross in Shropshire receives funding from Shropshire Council and the National Lottery for its young carers project.
The charity said it also relied on public donations to find the additional £10,000 it needed each year.
"These young people are just fabulous," said Ms Turner.
"It's a pleasure seeing them running around with a smile on their face - getting the break they need."
Sophie Stevens has been nominated for a Red Cross Humanitarian Citizen Award and will travel to London on 8 October for the award ceremony.