New leisure centre for Oswestry set to open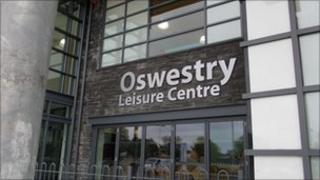 A new leisure centre in a Shropshire town is set to open with two swimming pools and other facilities.
The building at Oswestry was delayed after the original contractors went into liquidation last year.
Shropshire Council found another contractor after a delay of seven months and the work continued.
The new centre in Shrewsbury Road will replace the 1970's building which has become too expensive to maintain.
Councillor Steve Charmley, Shropshire Council's cabinet member for active and healthy lifestyles, said the building work had taken longer than expected.
"The original contractors went into administration in January 2010, so that delayed the project by seven or eight months," he said.
The plan for the centre was originally put forward by Oswestry Borough Council and was taken on by Shropshire Council when it became a unitary authority. Building work began in February 2009.
Mr Charmley said the original budget for the project was in the region of £6m but "obviously we've exceeded that nowadays because of the delays that have obviously cost us a lot of money."
Shropshire Council confirmed the final cost was £10.4m
The pools have been built using technology that helps save heat.
"Although you can't see it, it's covered with a very fine layer of film, like an oil on it, which retains the heat in the water," Mr Charmley said.
The new leisure centre opens its door to the public on Sunday 2 October when swimming will be free between 09:00 and 16:00 BST.
Mr Charmley said he was sure the new centre would be appreciated.
"After surviving the old Oswestry Leisure Centre with its creaking doors and leaky pool, I think this is going to open people's eyes to getting active in Oswestry," he said.
The old leisure centre which closes on Saturday 24 September is up for sale.