Shropshire Council plans Ifton Heath Primary School closure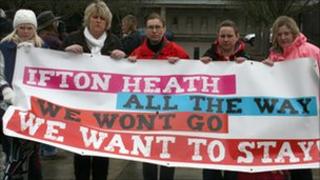 Shropshire Council has recommended the closure of a sixth county school, despite strong opposition.
Plans to close Ifton Heath Primary, near Oswestry, go before the council's cabinet on 28 September.
If approved, the school will close in 2012, with pupils offered a place at nearby Rhyn Park secondary school.
Shropshire Council has confirmed the closure of Barrow, Shawbury, Maesbury and Hopton Wafers primary schools and Wakeman Secondary School, Shrewsbury.
A six-week consultation into the closure of Ifton Heath was deferred until August to allow more detailed research to be carried out on the implications for Rhyn Park.
Campaigners at Ifton Heath have claimed the school is being "sacrificed" to save Rhyn Park, which has 325 pupils but capacity for 540.
Ifton Heath head teacher Nicola Bradley said: "We are a healthy school in many ways.
"We've got good numbers, we've got good budget, we're managing a lot of improvements. We don't need to be part of Rhyn Park to continue."
Wider community
David Taylor, director of people services at Shropshire Council, said: "I understand why people feel a sense of loss.
"Hopefully what we can show them is that, as this moves on, it's not all loss, there are gains."
An "all-through" school at Rhyn Park, catering for three to 16-year-olds, would be the first of its kind in Shropshire.
Nigel Keats, acting head teacher at Rhyn Park, said the plans would secure its future and benefit pupils at both schools, as well as the wider community.
"If Rhyn Park closed the community would lose their swimming pool, they would lose their sports centre, and that would be a real shame for St Martins," he said.
Ms Bradley said Ifton Heath was applying for academy status.
If successful, it would remove Ifton Heath from local authority control and protect it from closure.
Wakeman, Maesbury and Barrow schools are also attempting to opt out of local authority control to avoid closure.