Shropshire murderer Robin Ligus sentenced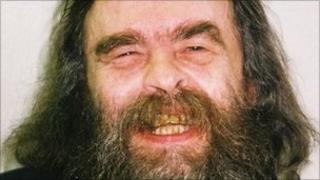 A convicted murderer from Shropshire will be detained indefinitely in a secure mental hospital for killing two other people.
Robin Ligus, 59, from Shrewsbury, was already serving a life sentence for murdering Robert Young in 1994.
He has now been sentenced for killing Trevor Bradley and Brian Coles in 1994.
Ligus had a stroke and was deemed unfit to plead, but a jury at Birmingham Crown Court found he had killed Mr Bradley and Mr Coles.
He was jailed for life in 1996 for the murder of Mr Young during a burglary at the 75-year-old's home in Shrewsbury two years earlier.
Heroin addiction
Ligus was told via videolink during sentencing on Friday that he would be returned to prison to serve his original sentence for murdering Mr Young if he was ever deemed "fit and safe" to be freed from hospital.
At the trial in July the jury concluded Ligus hit Mr Bradley, 53, on the head before setting fire to his car in Melverley, where his body was found in April 1994.
Mr Coles' body was discovered six months later following a burglary at the 57-year-old's home in Higher Heath, near Whitchurch.
He had been beaten to death with an iron bar.
Jurors heard Ligus, a father-of-three, was a heroin and cocaine user who had committed the crimes to obtain money for his addiction.
At the trial of facts Ligus was acquitted of involvement in the death of Bernard Czyzewska, whose body was found in the River Severn in Shrewsbury a month after Ligus killed Mr Coles.
'Brutal murder'
Because he was declared mentally unfit to stand trial, jurors were directed by the judge only to determine whether Ligus had committed the acts he was accused of.
Their remit did not permit them to return verdicts of guilty or not guilty.
Sentencing Ligus on Friday Mr Justice Treacy described him as "a highly dangerous individual" although he acknowledged the crimes had taken place many years earlier.
He said: "They took place in circumstances of considerable violence in the context of crimes committed for gain... in the same time frame as the brutal murder of Robert Young."
The judge ordered Ligus to be detained under the Criminal Procedure Insanity Act and he is due to be moved to a secure psychiatric hospital in Northampton within 28 days.