Shropshire street lights could be switched off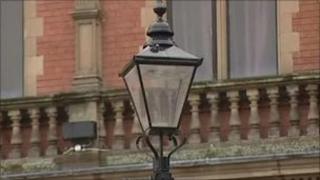 A scheme to save money and reduce carbon emissions could see two thirds of Shropshire's street lights turned off from midnight to dawn.
Shropshire Council has over 18,500 street lights which it said would cost £830,000 in energy bills this year.
The unitary authority said rising energy bills has seen the figure increase from £750,000 for 2010.
On Wednesday councillors will meet to discuss the plan to convert 12,500 of these lights to "part-night" lighting.
This would mean they would switch off automatically between midnight and 05:30.
In a report set to go before the cabinet, two options are set out for areas. One is part-night lighting where lights would be switched off and the other is dimming them between the same hours.
'Sensitive issue'
The report states: "Part-night lighting is the only option which is both affordable and substantially reduces the energy usage and carbon emissions of the street lighting."
A council spokesman said they estimated converting 12,500 lights to part-night lighting will save more than £162,000 a year and cut down on light pollution.
Converting the lights will cost about £100,000 a year over the next four years.
The council is also trying to reduce its carbon emissions.
The plan is to gradually roll out the scheme across the county over the next four years, starting from April 2012.
The campaign is in partnership with West Mercia Police, and any areas which are a crime concern or need lights for road safety reasons will not have their lights switched off.
Supt Pete Lightwood said: "I know this is a sensitive issue and local policing teams are focused, just as I am, on ensuring we monitor this very thoroughly."
Councillor Simon Jones, Shropshire Council cabinet member for transport, said: "This is a great opportunity for us all to do our bit for the environment, and help the council save money at the same time."