Margaret Harthill gets dog ban after 37 removed from farm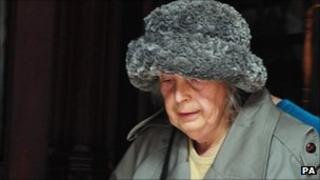 A woman has been banned from keeping dogs for five years after 37 were removed from her farm because of the condition they were being kept in.
Margaret Harthill, 64, was also given a 12-month conditional discharge after admitting seven animal welfare offences at Birmingham Magistrates' Court.
Some of the animals were living in makeshift shelters without access to water or bedding.
Harthill, of Kings Norton, Birmingham, admitted seven animal welfare charges.
'Finding new homes'
She was charged with failing to provide suitable conditions for her dogs after the police, RSPCA and a vet visited her property in Goodrest Farm, Goodrest Lane, in March.
Steve Morrall, RSPCA investigating officer, said: "It is extremely unfortunate that this case ever came to court.
"If Ms Harthill had only accepted help and worked with us to improve the conditions for her dogs, she wouldn't be in this position now.
"Thankfully now all the dogs have been signed over to our care by Ms Harthill so we are in the process of finding them loving new homes."
Harthill was also ordered to pay £100 in costs.