Shrewsbury incinerator plan debated at public inquiry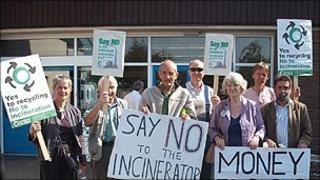 A controversial plan to build an incinerator in Shropshire is being debated at a public inquiry.
Proposals to build a £60m energy-from-waste facility at Battlefield, in Shrewsbury, were rejected by Shropshire Council in September 2010.
Veolia Environmental Services' appeal will be heard at the Shirehall and is expected to last five weeks.
Shropshire Council is not only financing the defence of its decision, but also part-funding Veolia's appeal.
The deal was written into the terms of the 27-year waste management contract signed with the company in 2007.
'Wrong time'
The energy-from-waste facility was a key part of Veolia's plan four years ago to reduce the amount of waste sent to landfill.
Veolia said it had a "strong" application and was determined to get the decision overturned.
The company said the proposed incinerator would burn up to 90,000 tonnes of waste and generate enough electricity to power 10,000 homes.
Hugh Richards, representing Shropshire Council, said it was "the wrong development, in the wrong place, at the wrong time".
Friends of the Earth and local business Battlefield 1403 were also represented at the inquiry, opposing the incinerator.