Shrewsbury Cathedral appeal to maintain opening hours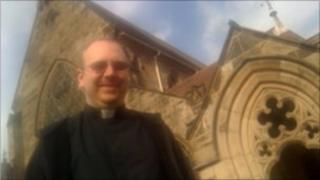 Priests at Shrewsbury's Catholic Cathedral have said it may have to reduce opening hours, unless more volunteer stewards can be found.
The building on Town Walls is open at weekends and weekday afternoons from Easter until the end of October.
However a shortage of volunteers could mean opening hours are restricted.
Father Chris Matthews said: We're really desperate for help... I'm really hoping we won't have to lock the doors."
Shrewsbury Cathedral is the mother church for the Catholic Shrewsbury Diocese, which covers a wide area, including Cheshire, Shropshire and parts of Merseyside and Greater Manchester.
'Cracking team'
According to Father Matthews the cathedral had 2,000 visitors this summer, although he admitted that many people in Shrewsbury do not know where the cathedral is.
Father Matthews came to Shrewsbury in September 2007 when the building was only open for services.
He said they had subsequently decided the cathedral should be open for longer.
Volunteer stewards are on hand whenever the building is open to the public for security and hospitality reasons.
"We have a really good cracking team of volunteers, but they're small in number," he said.
Commenting on the prospect of reducing opening times the priest said: "It'd be very sad if we do, after three or four years of keeping the place open so often."
Shrewsbury Cathedral opened in 1856 and includes stained glass windows by Margaret Rope, which attract visitors from around the world.