Royal Irish Regiment soldiers honoured for bravery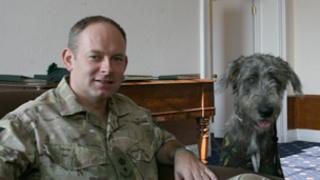 Five members of the Shropshire-based 1st Battalion The Royal Irish Regiment have been honoured in the Operational Awards List.
The men, who are all based at Clive Barracks in Tern Hill, have been praised for their bravery in Afghanistan between October 2010 and March 2011.
Three are from Northern Ireland and the fourth is from Hereford.
They are among 140 service personnel being honoured.
The awards list recognises military service during operations.
Military Cross
Lieutenant Paul McFarland is to receive the Military Cross for his courage in acting as a human shield to save a soldier from a Taliban grenade.
The 28-year-old from Belfast was on patrol when he saw the grenade come over a wall, landing near his colleague.
The citation said Lt McFarland grabbed the soldier by his body armour, "spun him round, throwing him against the wall. In the same motion, he turned his back on the grenade, diving on top of the prostrate soldier.
"Had he not acted as he did the soldier would most certainly have been killed or at the very least catastrophically wounded."
'Leading by example'
Lieutenant Colonel Colin Weir, commanding officer of the regiment, has been awarded the Distinguished Service Order for his courage and leadership during six months in an area of intense insurgent activity in Zarghun Kalay and Saidabad, in Helmand Province, southern Afghanistan.
The 40-year-old from Portadown in County Armagh, who has been in the Army for 18 years, said he was surprised and delighted to receive the medal and paid tribute to his fellow soldiers.
"I'm very proud of my men," he said. "I think they are awe-inspiring and a privilege to command."
His citation said Lt Col Weir was "everywhere; guiding, chivvying, supporting, always leading by example and personally frequently exposed to danger".
Captain Tobias Whitmarsh, a 29-year-old company operations officer from Hereford, receives the Queen's Commendation for Valuable Service for his leadership in controlling six months of intense battles with the Taliban.
"I was surprised when I heard about my award because I didn't think the job I was doing won awards, but it was more than enough for me," he said.
"I wanted to do a good job as anything else just would not have done justice to the guys on the ground."
His citation described him as "a truly exceptional officer". It said: "For those that conducted operations under his control, he was the constant example of leadership and resolute determination."
Ranger Peter Mawhinney, 21, from Ballymena in County Antrim, is Mentioned in Despatches for saving a colleague's life on a morning patrol in Nad-e Ali in October 2010.
The patrol came under attack and the lead soldier was hit in the thigh by a bullet. Ranger Mawhinney put himself between the attacking insurgents and the injured man.
'Sheer persistence'
His citation described him as "selfless and exceptional".
The Mention is Despatches is the oldest form of recognition for gallantry in the UK armed forces. Since 1933 it has been reserved for gallantry during active operations.
Major Jamie Humphreys, 37, is made an MBE for leading a daring night patrol and facing heavy enemy fire during a three-month battle for Saidabad.
He said: "It was a very kinetic area before we arrived and the biggest challenge we faced was trying to convince the people that we were there for their benefit.
"The way we did this was by sheer persistence and relentless day-to-day engagement with the population on patrols; showing them what their own government could offer them under stabilisation," he said.