Wellington clock returns after petition gathered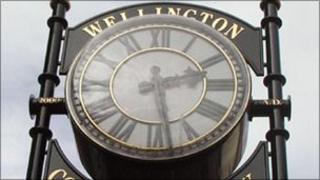 A £10,000 clock in a Shropshire town has returned to its Market Square home following a campaign.
There were plans to move it near Wellington's civic quarter after the clock was removed when work to re-pave the square was started.
But a petition of more than 6,500 signatures was gathered.
In May Wellington Town Council decided the clock, which was put up as part of the Millennium celebrations, could return to the site.