Olympic Dreams: Alison Williamson tests out 2012 venue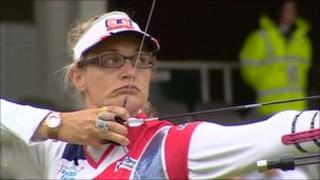 Shropshire archer Alison Williamson says taking part in a test event at Lords cricket ground for next year's Olympics has made her even more determined to train for selection for 2012.
"It motivates you to work hard over the winter, to make sure you're there," she said.
Williamson would become only the third British athlete in history to compete in six Olympic Games if she was selected.
A member of the Long Mynd club, she made her Olympic debut in Barcelona in 1992.
Medal tally
Twelve years later Williamson won bronze at the 2004 Olympics in Athens, the first British female archer to earn a medal since 1908.
She narrowly missed out on an Olympic bronze medal in the team event in Beijing in 2008.
She has also won medals at World and European Championships, the Commonwealth Games and World Cup events during her career.
As the countdown to the London 2012 continues, Williamson took part in the test event at Lords which will be the venue for the Olympic archery events.
The ground has been the "home of cricket" for nearly 200 years and Williamson said it was "great" to be there.
"The ground, the layout, the venue looks really impressive.
"You watch test matches and you see the England players come out and the importance it is for them to play here, you kind of feel that, it is a special ground," she added.
The women's team finished fourth in the test event, losing out to Japan in a shoot-out for the bronze medal.
Family connection
For Williamson, archery is in the family with both her mother and father involved in the sport.
Peter Jones from Archery GB said Williamson had put her teaching career on hold to concentrate on London 2012.
She trains at Lilleshall in Shropshire "four or five times a week".
"Our national coach is based there and we can get everything done in one place, it's a really great venue, great facility in the county," said Williamson.
In the Olympics, archers use recurve bows to shoot at a target 70m (230ft) away; there are medals for individual and team performances.
The selection process for Team GB's women's archery team will take place between May and June next year and there are three places up for grabs.
Alison Williamson is BBC Radio Shropshire's featured athlete as part of 'Olympic Dreams' in the build-up to London 2012.