Wellington Kip Project receives record donations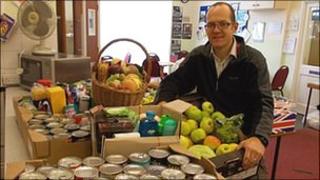 A Shropshire homeless charity has said it has been overwhelmed by support from local churches and other groups.
The Kip Project, based in Wellington, said record donations of food and other goods had come in after harvest festivals across the county.
Backed by the Salvation Army, the group estimated it had received twice as much as last year, with more to come.
Steve Watkins from the charity said: "It's something we can give somebody at a low ebb, in desperate need."
He added that the organisation had not counted the donations, but said they had almost filled three rooms at the charity's base on Tan Bank.
"What strikes me is folks do want to make a difference. On their own it's not much, but when 1,000 people do it, it has a huge impact," he added.
Mr Watkins said the Kip Project had worked with more than 1,200 people, from a wide range of backgrounds, since it launched in 2004.
He said the food would be put together into parcels and handed out to people during drop-in sessions over the coming weeks.