Wellington Millennium Clock unveiled after campaign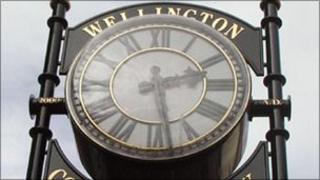 A community clock in a Shropshire town is being officially unveiled on Saturday after a campaign for its return.
Wellington Millennium Clock was removed from the town's Market Square earlier this year when work to re-pave the square began.
The town council planned to move it to the civic quarter but 6,500 people signed a petition for its return.
It is back in its original place where a ceremony will take place later.
'Became a memorial'
The clock, which cost £10,000 and was partly paid for by the public, was erected as part of the Millennium celebrations.
The decision to return it was made following a vote at a town council meeting in May.
Peter Jones, who campaigned with the group, Tick Tock Keep Our Clock, said he was surprised at how emotionally attached people were to the clock.
"We found people have strong emotional attachment to the clock," he said.
"The clock was funded largely by local contributions and people gave money thinking that that would represent a donation towards the memory of loved ones and in many ways it became a memorial."