Copper thieves leave Burton Borough School roof unsafe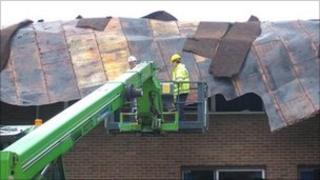 A Telford secondary school has been forced to close after thieves stole copper from part of the roof.
David Hill, head teacher at Burton Borough School in Newport, said the scale of the damage had not been known until shortly before 08:15 BST.
He said the area was unsafe although students who could not go home were being looked after in other buildings.
Mr Hill said he expected the school to be open as normal on Tuesday and that a planned open evening would go ahead.
He said it was not clear when the damage had been caused over the weekend, but that high winds had made the situation worse.
"It definitely looks as if they [thieves] were interrupted during it, because there's some copper off the site that's on the ground," Mr Hill said.
"So we've got a situation where the copper means the roof is not watertight and there's felt and copper flying around the site.
"We had to make a very quick decision because it simply wasn't safe for anybody, students or adults, to be in a considerable part of the school."