Telford ice rink in £4m upgrade plan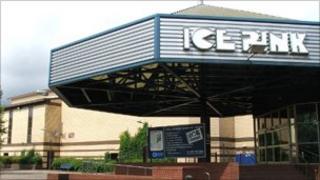 Telford ice rink could benefit from a £4m redevelopment under recommendations going before Telford and Wrekin Council later in the month.
The plans would see the ice pad, barrier and refrigeration equipment replaced, and a new restaurant and children's soft play area installed.
Councillor Arnold English, responsible for leisure, described the rink as "Telford's biggest youth club".
The proposals will go before the council on 20 October.
Last year the council said it was looking for a private firm to lease the facility off the authority.
Labour has since taken control of the council from the previous Conservative administration.
"We believe we can do a great job by retaining the ice rink for future generations and that we can have more success with the service than if it was to go into the private sector," Mr English said.
Almost 250,000 people use the ice rink every year, providing the council with an income of more than £900,000.
The council has said it needs to save £40m over the next three years due to government cuts.