Telford police officer honoured at Buckingham Palace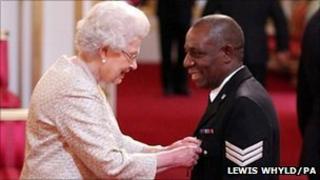 A Telford police officer has been honoured at Buckingham Palace.
Sgt Louis Hylton, who has served with the West Mercia force for 23 years, was awarded his MBE by the Queen for services to policing and the community.
Sgt Hylton, who served with the Royal Artillery for 15 years before joining the police, said it was "completely overwhelming" and "very humbling".
The honour comes in recognition of his work in tackling anti-social behaviour across Telford.
Sgt Hylton said: "The Queen asked where I was from and what the ribbons on my uniform were for.
"I explained that was I from Telford in Shropshire and that the ribbons were for my army service in Northern Ireland and my long service in the forces and the police.
"I joked with her that I'd been working for her for a long, long time and she laughed when I said it was nice to finally meet the boss after all these years!"
The officer has been praised for being a good ambassador for the force. In turn, he praised the team at Madeley police station.
He was named in the Queen's birthday honours list in June.
Det Ch Insp Jason Well, who nominated Sgt Hylton, said: "He has provided excellent service for Queen and country and community for a number of years."