Shropshire Council staff weigh up concessions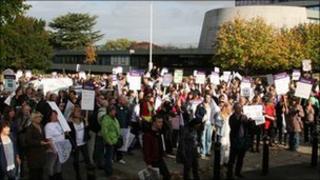 Staff at Shropshire Council are to vote on a series of new plans regarding changes to their terms and conditions.
The Unison trade union is holding meetings on Thursday and Friday to consult its members.
It said it would then be formally balloting all members from next week.
The new terms include capping a planned 2.7% pay cut in 2012 to 1.9% and changes to leave entitlement and an increase in mileage rates.
The authority offered the concessions on 4 October, following talks with Unison, the GMB and Unite.
Unison, which represents more than 2,000 council workers, held a 24-hour walkout in September over the authority's initial plans.
The union said it would gauge its members' views on the concessions at meetings in Shrewsbury, Ludlow and Wem.
New plans
Although the first of two proposed 2.7% pay cuts has already come into force, the concessions include a commitment to work to reduce next year's cut to below 1.9%.
Under the new plans business travel rates would also increase from 40p a mile to 45p from 1 April 2012.
Staff would also receive two days' paid holiday at Christmas, rather than being forced to take unpaid leave.
If the plans are approved, a Task and Finish Group will also be set up to negotiate over sickness leave, after initial proposals to halve the entitlement from one year to six months.
The council has asked for a formal response from all trade unions by the end of the month.
It said it needed to find £76m savings by 2014, due to reduced government funding.