Shropshire Council strike 'should be option'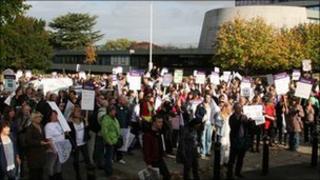 A union representing Shropshire Council workers says it has not ruled out industrial action if agreement cannot be reached over terms and conditions.
Unison said it would formally ballot members from this week over a second pay cut, proposed for next year.
The mood was "quite mixed" at meetings to consult members held on Thursday and Friday, the union said.
Unison added it did not think it was "a million miles away" from a settlement with the council.
The council has asked for a formal response from all trade unions to the new plans by the end of the month.
The plans include reducing next year's planned 2.7% pay cut to a maximum of 1.9%.
The council said it needed to find £76m savings by 2014, due to reduced government funding.
'Some time'
Unison Shrewsbury branch secretary Alan James said, following meetings in the town, Ludlow and Wem, that members "have an understanding of the position the council find themselves in".
He said: "There's an acceptance from the membership and a willingness I think to move on."
But Mr James added there was a "recurring theme" over issues they feel "very, very strongly about".
He said: "We still have and we've had for some time a mandate for industrial action.
"I have to say there was still a mood that industrial action should be an option."
Mr James added that he had exchanged correspondence with the council and was hopeful "that early next week we'll have a meeting".
The authority offered concessions on 4 October, following talks with Unison, the GMB and Unite.
Unison held a 24-hour walkout in September over the authority's initial plans.