Ludlow Castle seeks new keyholder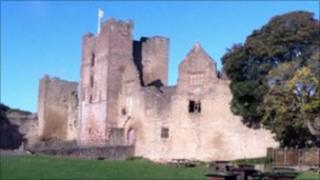 One of England's most historic castles is looking for a new keyholder.
Ludlow Castle in Shropshire is a Scheduled Ancient Monument with a history dating back 1,000 years.
Its owners are looking for a new custodian after the current keyholder, Helen Duce, announced her retirement after 15 years in the post.
Ms Duce said it had been a privilege to hold the keys to the castle: "She is a ruin, a very beautiful ruin, and has a great part in English history."
Ludlow Castle was bought by the Earl of Powis in 1811 and remains part of that estate.
Catherine of Aragon
The castle's history can be traced back to the time of William the Conqueror.
Henry VIII's brother Arthur died at the castle in 1502 where he had been staying on his honeymoon with his wife, Catherine of Aragon.
Catherine went on to become the first of Henry VIII's wives.
As the keyholder, Ms Duce does not just look after one key, but many.
"I have several bunches of keys which I certainly know I've got in my bag when I come to work.
"And I have the most enormous key for the main gate," She said.
The custodian's responsibilities include supervision of all events at the castle, the gift shop and tea room, the castle's website, tenants and holiday accommodation.
Ms Duce said: "Really it's making sure Ludlow Castle is a welcome to all the visitors who come to Ludlow and trying to inspire people to come to the castle."
Asked about the prospect of leaving she said: "I am going to be very sad... I've had the most wonderful time here."
The 59-year-old, who retires in January, said it was time for the castle to have a "fresh pair of eyes".
"I hope the new person in post loves the castle as much as I do," she added.