No applicants for Shropshire butcher apprenticeship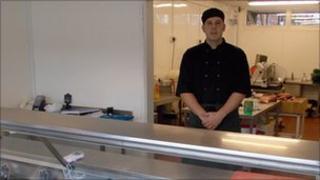 A Shropshire butcher who advertised for an apprentice for more than five weeks has had no applicants.
Roger Gough, from Bayston Hill, said he had advertised through the national apprenticeships website and was disappointed by the lack of interest.
"I was very surprised. I've seen the news recently that there's a shortage of jobs for young people," he said.
The job, advertised at £101 a week, offered the chance to qualify as a butcher.
Mr Gough said: "We offered it as a level two qualification in meat and poultry processing, which would make you a qualified butcher.
"Further to that we'd also do the level three, which is a management qualification."
Government figures show that almost one million 16 to 24-year-olds are now looking for work, the highest number since records began in 1992.
Karen Woodward, from the National Apprenticeships Service, said about 1,000 young people in Shropshire had registered their interest in apprenticeships, but there was a lack of understanding about what some jobs entailed.
Ms Woodward said parents were partly to blame.
"We know about 80% of mums would prefer their son or daughter to go on to sixth form and into academic education.
"As an apprentice you are employed from day one and it's a tremendous opportunity to earn as you learn and you can still progress to degree level. You just do it learning at work, rather than in a classroom situation."
She added that there were 70 employers in the county "actively looking to recruit apprentices," with 600 advertised apprenticeships so far this year.