New cardboard waste rules cost Shropshire Council cash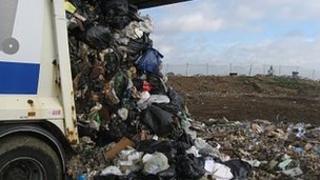 A council has claimed new composting regulations will cost it more money.
Shropshire Council is one of 60 local authorities affected by the new rules which mean cardboard can no longer be collected with garden waste and recycled into compost.
It will now have to go into landfill sites which are subject to government taxes if waste exceeds a certain level.
From the end of November, householders will have to take cardboard to household recycling centres.
The new standard, developed by the Waste and Resources Action Programme (WRAP) and the composting industry, claims cardboard mixed with garden waste has the potential to cause contamination through ink dyes and plastic coatings.
Larry Wolfe, head of waste management at the council, said it had not been idle since learning of the new rules.
Trials continuing
"We have explored every conceivable avenue... We have been doing sampling of the vehicles which contain cardboard and garden waste to determine what percentage (of cardboard) is in there," he said.
"The trials that we will be conducting within the next month will give us more information as what the composition of that material is."
Paul Beard, of Shropshire Council waste services, said the lorries they currently use for collecting garden waste and cardboard could not take a split load but they were looking at ways to add a separate cardboard collection to the kerbside service.
Mark Hunter, from environmental services contractor Veolia, said they were "disappointed about this but clearly we need a way forward to sort the situation out".
He said the county's landfill targets would be affected in the meantime and this would mean paying extra tax to the government.
"In the short term this will go into the waste. Obviously we will look to divert this into the household recycling sites, but clearly for the short term this will have an effect," he said.
Twenty plastic bottle banks are being converted into cardboard recycling points to augment the services of the five household recycling sites which currently accept cardboard.
Householders will be getting a leaflet through the door to explain the new rules.
Telford and Wrekin council residents will not be affected. Their waste is send abroad to be recycled back into new cardboard.