Reward offered after 'arson attack' on Telford building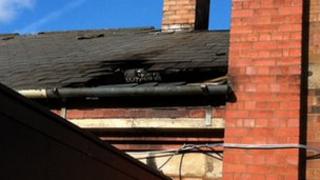 The developers of a building in Telford which was badly damaged by fire believe the blaze was the work of vandals.
Hama Investments, which owns the building in Oakengates, is offering a £5,000 reward for information about Thursday's fire at the Walker Institute in Hartsbridge Road.
The fire involved a single storey at the back of the former Telford College of Arts and Technology.
It is due to be turned into 14 luxury apartments.
An investigation is still being carried out into the blaze, which a West Mercia Police spokesman described as "of dubious origin".
'Stolen lead'
The project manager for Hama Investments, Angie Kousoulou, said the damage had set the work back up to three months and the damage could cost £250,000 to put right.
The damaged building was to have become leisure facilities and a swimming pool but Mr Kousoulou said it might now have to be demolished.
He said the project had been dogged by vandalism and break-ins.
"They've been leaving tools on the premises so when they come back the next day they've already got tools here.
"They've stolen all the lead off the roof and that's going to cost £85,000 to repair."
Pipe work and radiators and anything of value has been stolen from inside the building.