Cambrian train mural unveiled on Oswestry shop wall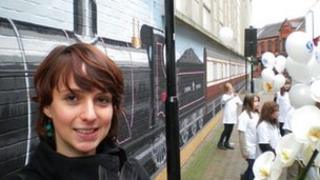 A mural of a train measuring 45m (148ft) in length has been unveiled in Shropshire.
The Cambrian train, painted on a shop wall in Oswestry, was inspired by the railway company based in the town.
The painting by Anna Roberts was commissioned by the community partnership, Footfall, which aims to increase visitor numbers to Oswestry.
Ms Roberts, a theatrical scenery painter, said: "Hopefully it has brought a smile... to people's faces."
The unveiling on Saturday coincided with the second anniversary of Footfall, which uses empty shops to display art exhibitions by students from local schools and colleges.
More recently the organisation has expanded the idea to empty spaces.
Commenting on the new mural, Councillor Steve Howarth from Footfall said: "It's just a fantastic addition to this street and a real pull for Oswestry."
The mural has been painted on the side of the Home Bargains store.
Ms Roberts said the mural was inspired by a typical 1920s railway poster and she had wanted to create something "sunny and positive".