New Oswestry leisure centre reopens after leak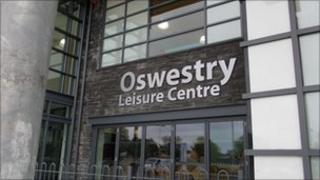 A Shropshire leisure centre has reopened after being closed on Saturday due to a water leak.
Staff identified a leak in an area behind seating in the foyer at Oswestry Leisure Centre after water went through the first floor, Shropshire Council said.
The Shrewsbury Road centre, which has two swimming pools and other facilities, opened last month.
Shropshire Council said it would investigate how the fault occurred.
Peter Davis, principal leisure facilities manager, said: "That will be down to the contract plumbers who are part of the build.
"They need to explain to us exactly why this has happened and we'll be talking to them in some detail."
He said staff came in on Saturday morning and identified a leak.
Mr Davis said: "Unfortunately lots of water from the domestic water heaters which provide water for showers and toilets, etc, has leaked through the floor in the plant room."