Shropshire sisters count cost of house fire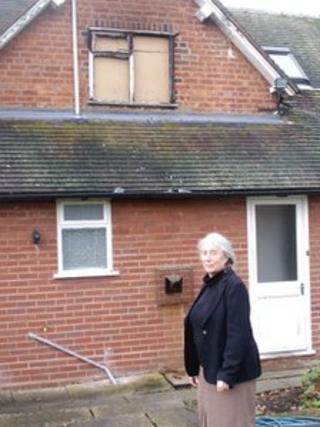 Retired schoolteacher Margaret Leverett is facing about four months in rented accommodation following a fire at the house where she has lived all her life.
Ms Leverett, 63, and her sister, Anne Hopcroft, 65, had a "very lucky escape" after the midnight blaze broke out in the Shropshire village of Tibberton, the fire service said.
The detached home in Back Lane was due to be sold.
But walls have been damaged, there is a huge hole in the bathroom floor - after the electrical fault which caused last month's blaze; and a prospective buyer has not decided whether to go ahead with it, the fire service said.
Ms Leverett said if she had had a smoke alarm, "it would have alerted us in time and we would not be in the position we find ourselves now".
'Loud bang'
She said: "Normally neither of us would have been up at that time.
"My sister had stayed up particularly to watch a television programme.
"There was this loud bang, it was like an explosion and then it was followed by smaller bangs, which were obviously aerosol cans."
Ms Leverett opened a door to investigate, found the hallway "bright orange" with flames and full of smoke and they had to escape through a window.
She said: "I went to three houses before I found somebody could hear me.
'Feel guilty'
"I'd just got a night dress on and ripped it getting through the window, so I was in a proper state really.
"I was frightened, but I was also panicking because I knew I was slow in getting the fire brigade because I couldn't get to a phone.
"I did feel guilty that these men were upstairs and they were fighting a fire because I hadn't got a fire alarm."
Ms Leverett lost family photographs in the blaze. Now carpenters, decorators and electricians are due to carry out work over 16 weeks at the home.
Shropshire Fire and Rescue Service, which has seen six deaths in five fires since April, said if the sisters had been upstairs in bed asleep when the fire took hold, they may not have survived.
'Should be done'
The county's head of fire prevention, John Das Gupta, said: "If a smoke alarm had have been fitted, it would have raised the alarm before any of those initial explosions.
"Margaret has honestly volunteered the fact that purchasing a smoke alarm was on her 'to do' list. We've heard that so many times.
"It shouldn't be on a 'to do' list. It should be done."
Shropshire's fire service offers free home fire safety visits and a free smoke alarm for each floor to elderly and vulnerable home owners.
The British Red Cross Fire and Emergency Support Service said it arrives at the scene of an incident within 90 minutes of a call-out. There were 220 of those in the West Midlands region last year.
The service offers immediate safe shelter, along with clothing, food, shower facilities and emotional support, and helps with securing temporary accommodation and contacting insurance companies.