Harlescott Junior School placed in special measures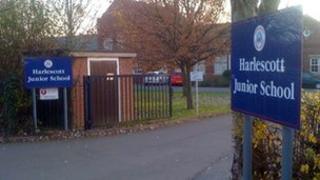 A Shrewsbury school has been put in special measures after a recent visit by education watchdog Ofsted.
Inspectors said Harlescott Junior School provided an "inadequate education for its pupils," with "widespread underachievement".
The visit on 15 September highlighted teachers' low expectations of pupils and "weak" self-evaluation.
Staff and governors at the school said they were working with Shropshire Council to improve standards.
Ofsted said it would be visiting at regular intervals to ensure targets were being met.
Head teacher Stephanie Peters, who has been at the school since January, said: "We are already working hard, with support of advisers from the council, on an action plan that will spearhead improvements.
"We have put in place more rigorous assessment systems that will provide teachers with the information to plan suitably challenging work for all pupils."
Inspectors praised the school for the way it looked after pupils and encouraged them to lead healthy lifestyles, but criticised the lack of progress in English and maths.
The report, published on Tuesday, said just under half of all pupils in Year 6 "failed to meet the nationally expected level in both English and mathematics".
It added that attainment levels had fallen each year since it last visited in 2008, at which time it was rated as "satisfactory".
Chairman of the governors Malcolm Price said: "This report gives us a clear challenge to make some important improvements, and to make them urgently.
"Governors will be playing an important part in making sure that we meet this challenge fully and that when inspectors return we have strong progress to show them."
Harlescott Junior School has 265 pupils on its roll aged from seven to 11.
Ofsted said the proportion of pupils with special educational needs or disabilities was high and the number of pupils eligible for free school meals was also above average.